Remnant 2 finally has a release date, and if you're as excited as we are to dive into the much-anticipated sequel of remnant from the ashes there's some things you need to know.
The long awaited title is coming to PC, Xbox Series S/X, and PlayStation 5 on July 25, which means we're a little over a month away from what we believe will be one of the most successful games of the year when all is said and done. Take the successful formula of Remnant: From the Ashes and polish and perfect nearly every system; you better believe the hype is very much real with this game.
Today pre-order information for Remnant 2 went live on their website (remnantgame.com) and while we will never suggest anyone pre-order any video game, there's some information here you might find interesting.
First is in regard to the Gunslinger archetype that's been revealed already. While technically a starting class, the only way for players to unlock the gunslinger right from the very start of the game is by pre-ordering.
I want to be clear; this class is absolutely obtainable in the game just by playing. The pre-order just gives you the option to utilize the gunslinger archetype from the beginning. If you want to learn more about the specifics of the class, I recommend you check out our Remnant 2 Ultimate Preview video hitting the channel soon. 
At launch Remnant 2 will be available for purchase in three distinct editions. Standard, Deluxe, and Ultimate.
Standard Edition can be purchased for $49.99 and includes:
Deluxe Edition can be purchased for $59.99 and includes:
The base game
As well as 3 remnant: from the ashes armor sets
Ultimate Edition can be purchased for $69.99 and includes:
The base game
3 remnant: from the ashes armor sets
3 days of early access to Remnant 2
A survival pack
And a DLC bundle with 3 packs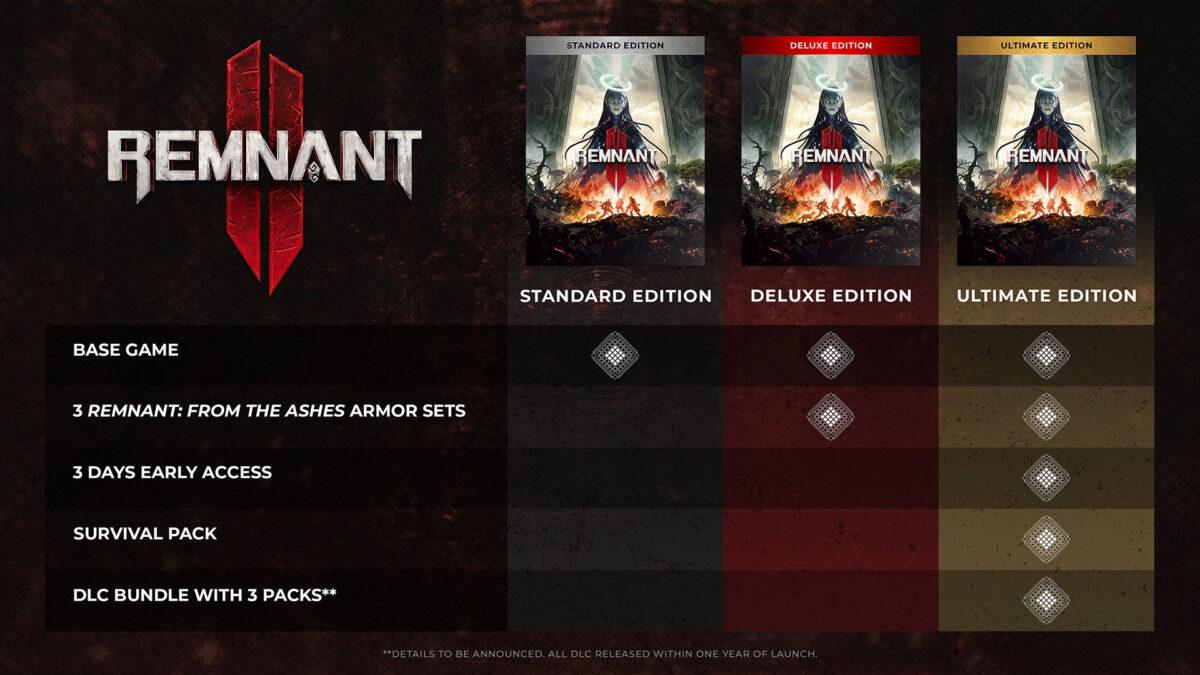 The first question you might have is why are pre-order players receiving 3 powerful sets of armor, but the truth is armor is getting a really important rework in Remnant 2. We dive into that system in our recently released '5 massive changes' video so give that a watch to learn more. 
To summarize, armor set bonuses don't exist anymore and armor sets now only inform weight class and resistances, so while it's still tied to some gameplay systems, armor isn't nearly as powerful as it was in Remnant: From the Ashes and becomes more about aesthetics.
If you plan on springing for the Ultimate Edition the real notable inclusion is the 3 DLC packs that come with the purchase. If you played any of Remnant: From the Ashes, then you might remember 'The Swamps of Corsus' or 'Subject 2923' which were both well-received expansions of the base game. With 3 such DLC packs on the table it's safe to say there is very much a post-launch plan for Remnant 2. I should point out that all DLC is expected to be available within one year of launch, so let that sink in.
In terms of that mysterious survival pack don't get too excited. It's a nice little welcome kit, but nothing overly impressive. The most exciting pickup is the Mudtooth Elixir, which grants players an XP bonus for a period of time. The other items which include 5 Bloodroot, a lesser means of healing, 3 ammo boxes which replenish ammunition for all equipped weapons, and the scrap and iron basic resources, are all extremely common items.
Here again I don't want you to worry, everything I just mentioned will most likely follow the same pattern as in Remnant: From the Ashes which means you'll be able to pick up all of these things within the game itself, Ultimate Edition or not.
Mark your calendar for July 25th, pre-order if that's your style, and get ready because the game we've been waiting for is almost here.