Star Wars Outlaws has just been revealed; a brand new open-world game set in one of the most iconic settings across sci-fi and fantasy.
If there's one thing we know about Ubisoft, it's that they're no stranger to open-world games. The company has practically built its reputation on such titles, and when rumors swirled that they'd be taking on a Star Wars game well, simply put, the internet was divided.
On the one hand we've never seen a true single-player open-world Star Wars game since the golden age of Star Wars: Knights of the Old Republic, and as you all know, it's been ages since that game was released. MMO titles like Star Wars: The Old Republic filled a bit of that void, for a time, but the hunger for an expansive universe Star Wars game has been rising steadily. 
Enter Star Wars Outlaws, by all accounts a different type of Star Wars game, one where you're not beholden to the Sith or the Jedi, but, as the name suggests, Outlaws and the underbelly of the universe. We know very little about this game after just one trailer, but we do have a few nuggets of information worth talking about.
First off, Star Wars Outlaws will be releasing sometime in 2024 for the PC, Xbox Series X/S and the PlayStation 5. Set between the events of Star Wars: The Empire Strikes Back and Star Wars: Return of the Jedi it's an interesting period of time. For starters it's largely undeveloped with the primary piece of content coming from a multimedia project called Star Wars: Shadows of the Empire which included video games, novels, comic books, trading cards and more. 
I don't want to get too deep into the backstory, but one of the primary story drivers during this time was Luke formulating a plan to rescue Han Solo, who's frozen in carbonite. We actually get a glimpse of what could be Han in the Outlaws trailer, so it'll be interesting to see if our paths cross with some iconic and notable characters.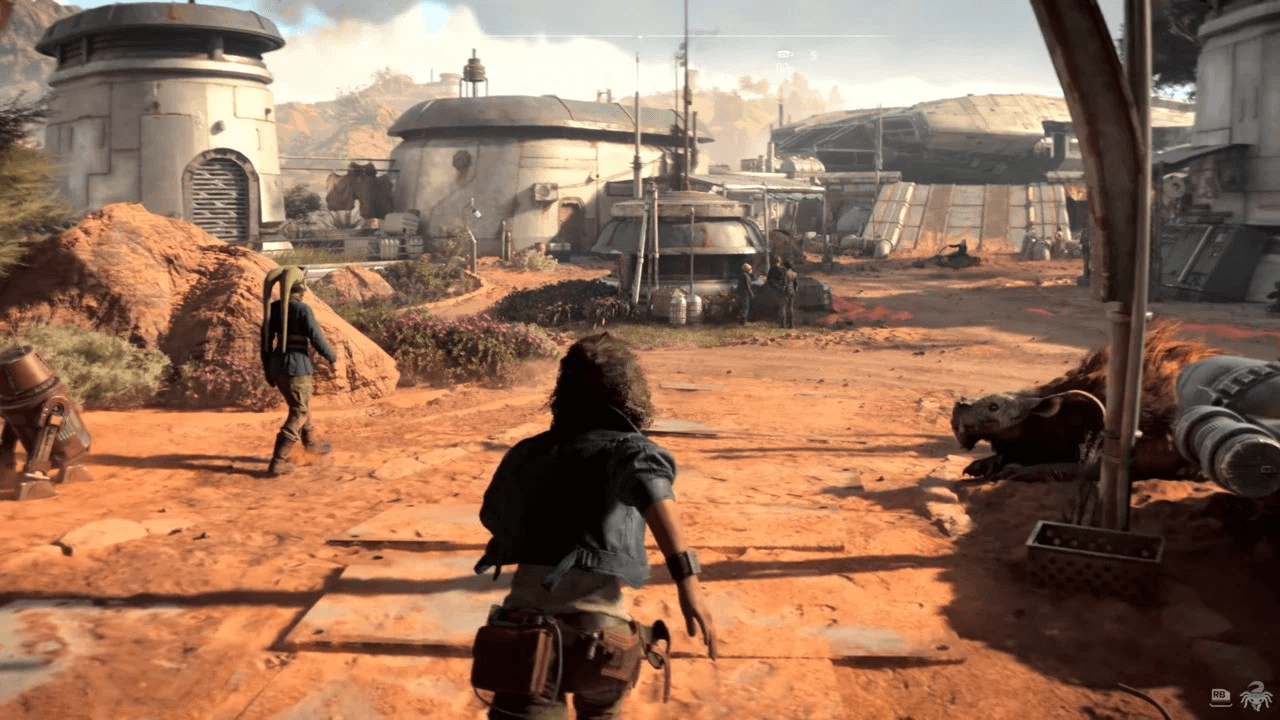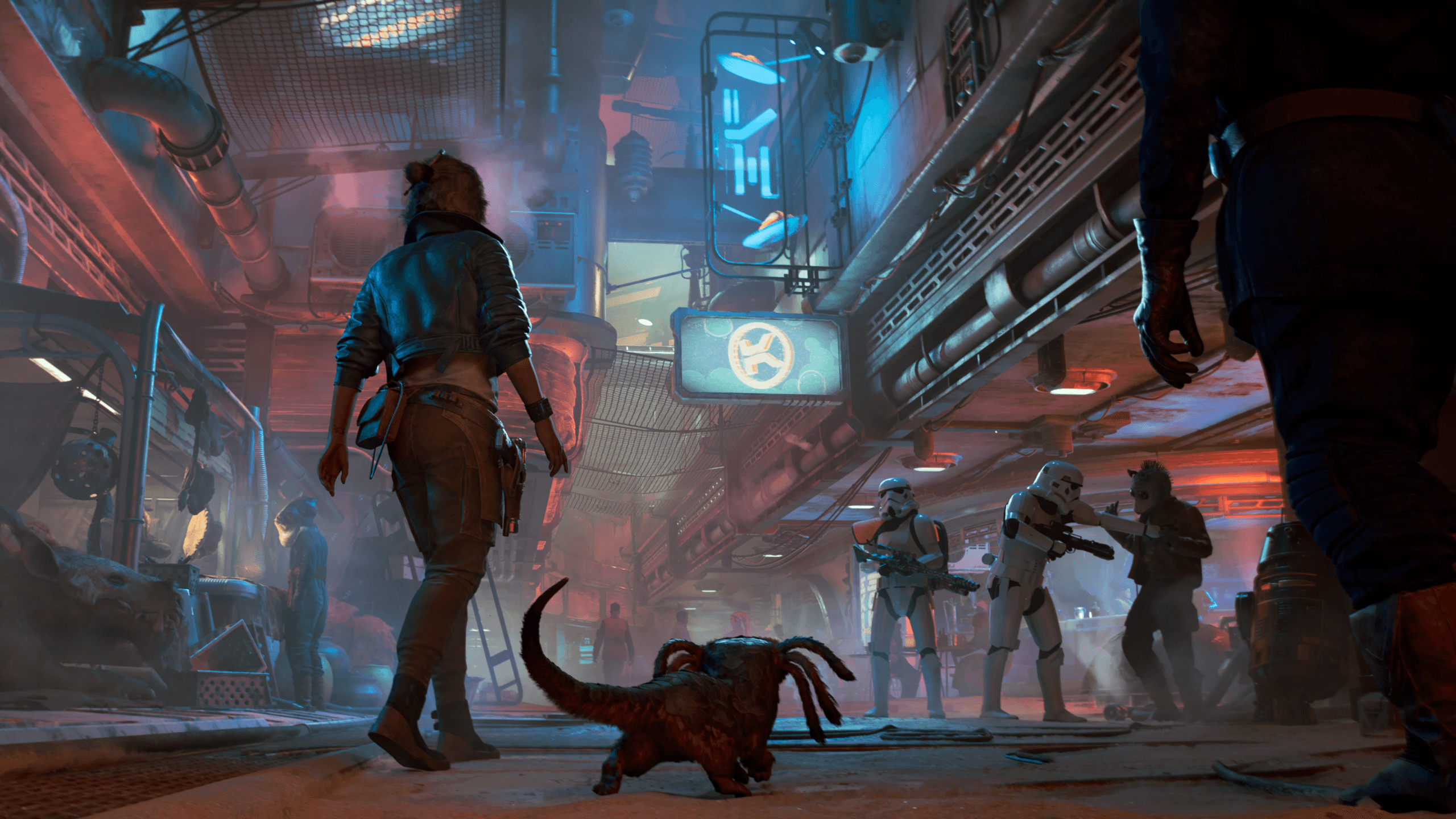 In terms of who *we are in this adventure, we play as Kay Vess, a clever scoundrel in the galactic underworld. According to official news on StarWars.com Kay is looking to attempt one of the biggest heists in the Outer Rim, all in an effort to start a new life. From a gameplay perspective it seems like we'll be locked into Kay's story and the ability to create a custom character is out-of-scope for this title. 
Kay also doesn't appear to be alone. She's accompanied by Nix, your classic cute, furry companion, and a BX Commando droid seen here wearing a trench coat and looking very much like some muscle for hire. Throughout the reveal trailer there's a whole host of characters and races we don't often see, such as the Pyke Syndicate, the infamous spice runners, which we're bound to get tangled up with given the nature of being an outlaw and a smuggler. We're also introduced to a character named Jaylin, who somehow sneaks his way onto Kay's ship. It's hard to tell if this is a friend or foe, but as an Outlaw I have a hard time imagining you have many true allies.
It's amazing to think we're going to be playing a modern Star Wars game without Jedi and Sith, and while that's not off the table, very little gave me the impression that those two factions will be a major element of this game. It's much more likely we'll see the likes of Boba Fett and other Mandalorians which makes more sense given the nature of the game.
What I'm most excited to learn more about is how the developers, Massive Entertainment are approaching the game from a systems perspective. According to Julian Gerighty, Creative Director at Massive Entertainment, he says, 
"Our team at Massive Entertainment has a great deal of experience in open-world games backed by strong technology, and it's the perfect time to tell an original scoundrel story that will resonate with fans. With the Galactic Empire on the heels of the Rebel Alliance, and the criminal underworld thriving, an outlaw like Kay Vess has a whole galaxy of opportunity in front of her."

Julian Gerighty
It's pretty clear the ambition is there, but will the game hold up against the brutal expectations of modern gamers and can the team behind The Division pull off a massive open-world Star Wars game?